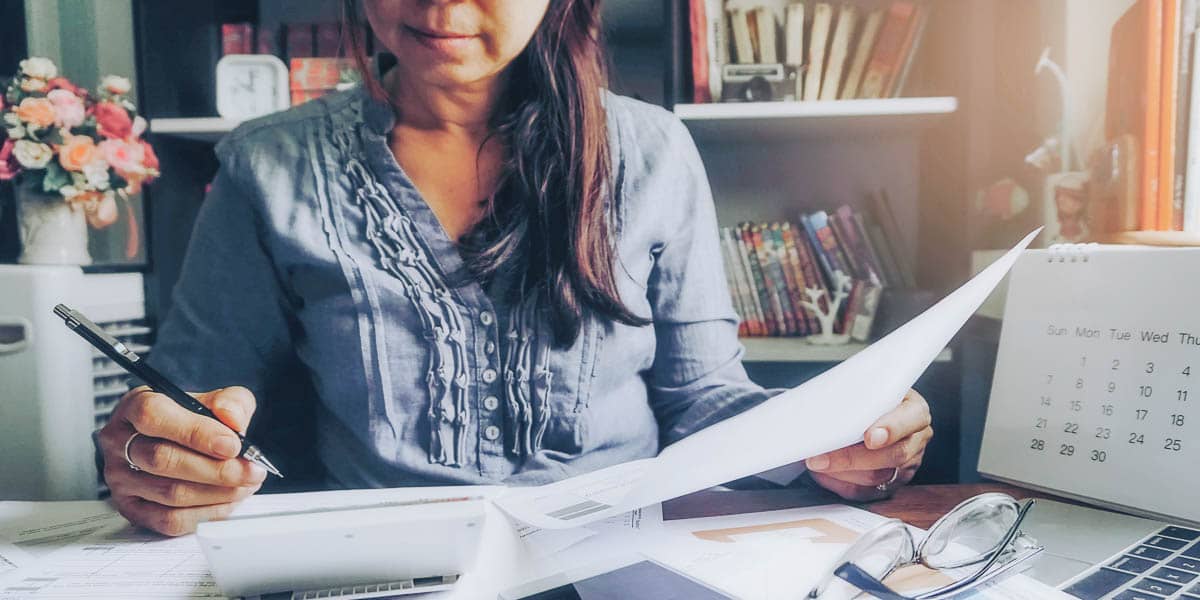 A do-it-yourself (DIY) process allows you to skip the expenses involved with lawyers. You'll do a lot of the work yourself, and it can seem a little overwhelming. Plenty of forms and supporting documents are required.
But in California, the court system offers a lot of support, and all of the forms you need are online. With some effort and cooperation, you could end your marriage without breaking the bank on unpleasant fees and lawyer bills.
Watch: How to Get a Divorce in California
How does a DIY divorce work in California?
Many people want to save money on the divorce process, and California makes this relatively easy. The judicial department provides plenty of online help, including a step-by-step guide.
In general, couples who want to get divorced take four simple-seeming steps:
Filing for divorce: One party fills out paperwork, files it with the court, and delivers a copy to the other party.
Sharing necessary information: Both parties offer financial information in California documents.
Deciding how to separate: The couple makes decisions about debts, assets, childcare, property, and more.
Finalizing the details: The couple creates a final set of documents and files them with the court.
Some steps come with deadlines and time frames. But most are relatively open-ended, so you can take your time.
If you have questions, find the court you're working with, and access their self-help center. Staff members can't offer legal advice, but they can address queries about forms and processes.
What is the process for filing for a DIY divorce in California?
Any divorce involves a lot of paperwork, whether you're working with a lawyer or not. Forms streamline communication, ensuring everyone is sharing vital data. And these forms are legal documents, so you can head back to court if your spouse withholds data or lies about something.
Let's walk through the divorce steps and outline the forms you need along the way.
Get started
Filing for divorce involves filling out two (or three) forms, serving them to your partner, and filing documents with the court.
Starting forms include the following:
Petition – Marriage/Domestic Partnership (FL-100) to kick off your divorce process
Summons (Family Law) (FL-110) to request your partner's response
Declaration Under Uniform Child Custody Jurisdiction and Enforcement Act (UCCJEA) (FL-105) to identify children impacted by the divorce
Your partner must be given (or served) these papers by someone older than 18 and uninvolved in the proceedings. A friend could do that, or you could hire someone to help.
You'll send along the forms above, and you'll give your server one more form. Proof of Service of Summons (FL-115) should be filled out by that person.
All four forms (or three, if you don't have children) should be filed with the court that will handle your case. Typically, that's the court closest to the place where you live.
A partner must respond within 30 days with yet another form: Response—Marriage/Domestic Partnership (FL-120). That partner can respond via mail by using Proof of Service by Mail (FL-335). The person should take both forms to court to process the divorce and file them.
Share information
Both parties fill out the same set of documents to share financial information. Typically, they serve papers to one another, and that can be done via the U.S. Postal Service with the Proof of Service by Mail (FL-335) form.
The four forms both parties fill out include the following:
Negotiate
You must come to terms about what both parties will get and leave behind. Everything is on the table at this point, including these things:
Childcare arrangements and custody
Child support payments
Spousal support (alimony)
Debt distribution
Property
Liquid assets
Some couples come to agreements quickly, and they enter the negotiations willing to hash everything out. Other couples need time, and they negotiate in bursts via phone calls and email.
Finalize
Once you agree on the details of your divorce, it's time to share your decisions with the court. Finalizing your divorce means giving the judge copies of plenty of forms, along with a document that proves you both understand just what's happening.
Write down your agreement using a template like this. Sign it, and ensure your partner does too. Attach the form Judgment (FL-180) to it.
Prepare other forms to support your FL-180, including these:
If you're not sure you've completed all the forms you need, use the Judgment Checklist - Dissolution/Legal Separation (FL-182) as a final check.
Once you're done, go to court and file all the paperwork.
How much does a DIY divorce cost?
The partner who files the paperwork, and the partner responding to the paperwork, pay a fee: $435 to $450 to file. This fee opens your case, and each time you file paperwork, you can reference the case number and add records to the file without paying more.
If you can't afford the fee, you can apply for a fee waiver. But it's typically an option reserved for people using public benefits or living close to the poverty line.
While a DIY divorce can cost hundreds, an average divorce with lawyers costs $7,000 or more. And couples that disagree about everything can pay more for the ongoing fight. Ultimately, a DIY divorce will save you thousands of dollars.
How long does a DIY divorce take?
A divorce is a difficult conversation between two people who may not agree about some (or most) things. Your divorce time frame depends on how quickly you can agree with your partner and work together to get things done.
Once you file the final paperwork, you must wait six months for the divorce to be legally binding. But it could take you months to prepare that final set of documents.
Is a DIY divorce right for you?
Skipping big fees and courtroom visits is tempting to anyone, and it could be the right choice for you.
A DIY divorce is typically best for couples that meet these criteria:
You agree. If you're still speaking with your partner, you can likely come to arrangements quickly.
You have few debts and assets. It's easier to come to terms over just a few items, when compared to a big estate.
You don't share children. A child always complicates a divorce, and the paperwork requirements can explode.
A DIY divorce could be the wrong choice for couples in these situations:
Either party seeks

revenge. If you're hoping to bleed a former partner dry and fight over every scrap, it's best to do this in court.
You have plenty of assets. Wealthy couples often forget about key assets, tax impacts, and more. It's best to let lawyers and accountants handle the mess.
You want to raise the children. Personal fights over custody are rarely effective. Let lawyers handle this.
Tips for a successful DIY divorce in California
Every couple is unique, as is every divorce. Even partners that hope to discuss things like adults can be overwhelmed with emotion, and things can become unpredictable quickly.
These are a few tips that could make this difficult process a little easier:
Be honest. Don't lie about your income, your debts, or anything else. Deception will pull you into court very quickly. Be as honest as you can on each form, even if you have to take extra time to find the details.

Don't assume

. Some couples think their divorce will automatically result in a 50/50 split of assets. That's not always true. Read all documents from your partner carefully and ensure that your future is protected.
Think about the future. Support payments could help you to feel more comfortable as a solo head of household. Don't be afraid to discuss this.
Factor in pensions and retirement accounts. Couples can accrue plenty of equity in these accounts. Be sure you're including the totals in your divorce disclosures.
DIY divorce in California FAQ
These are a few common queries people ask about getting a divorce in California:
Can I file for divorce myself in California?
Yes. You can file for a divorce without your partner, and you can do so even if your partner doesn't agree. This isn't a step you must take together as a couple.
Can you divorce in California without going to court?
Yes. The steps we outlined above don't involve courtroom cases. If you follow this process, you don't need to be part of a trial. But you will need to file your documents with the court.
How can I get a quick divorce in California?
No divorce is exactly "quick." State laws require a six-month waiting period before divorces become final. But a DIY divorce will certainly save you time. The faster process can help you avoid long, drawn-out days in a courtroom and steep lawyer fees.
How much is a simple divorce in California?
It costs up to $450 to file divorce papers in California. This is the least expensive way to dissolve a marriage in the state. If you hire attorneys, you'll spend thousands more.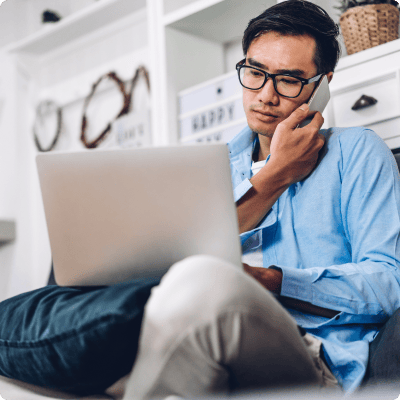 Have Questions About Divorce? Don't Know Where to Start?
Our experienced team can answer your questions to help you understand the process and figure out what's best for your specific situation.
References
Divorce in California. Judicial Branch of California.
Start Your Divorce Case. Judicial Branch of California.
Serve Your Response to Divorce Papers. Judicial Branch of California.
Divorce Forms. Judicial Branch of California.
How Much Does a Divorce Cost in 2022? (July 2022). Forbes.